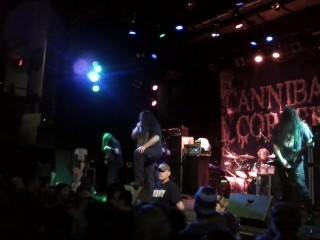 Yes. I saw them 4 times!  I already explained my first time seeing them for the first time in my previous post.  Read that if you wanna know about my first time seeing CC.  Alright, here's one picture from the 2nd time I saw them.  This was in Poughkeepsie, NY at The Chance in October 2015.  Why is this photo horrible?  I sadly lost my camera in the mosh pit.  I believe it got stepped on or it got stolen.  I will never know for sure.  I guess you got take a chance when you're at The Chance. 
Anyway, they played songs from just about of all their albums (except for Butchered at Birth).  I could go on and on.  What about the other bands?  I thought Cattle Decap was not that impressive.  I was bummed out, because I wanted to see 'em live so badly.  Soreption was totally cool and I met their vocalist.  He's a cool guy and I had a cool conversation with him after he performed.  I even bought a Soreption logo shirt off him!  Sadly, I missed Necroptic Engorgement.
This from the 3rd time I saw them.  This was an awesome show.  I had the opportunity to see them for the 3rd time AND I saw another one of my favorite bands there as well.  Yup, Obituary!  Obituary is one of my favorite bands of all-time and it ruled that CC and Obituary co-headlined.  This was taken in February 2016 at the Irving Plaza in NYC.  I saw Cryptopsy too, but I missed Abysmal Dawn.  I crowd surfed for the first time ever when CC performed The Time to Kill is Now.  That was an unbelievably incredible show.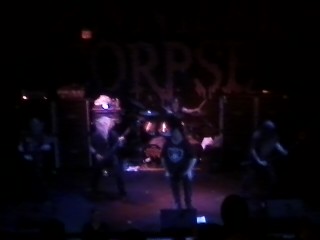 As you may have guessed, this is a picture from the 4th time I saw them.  This was taken on July 29, 2016 at The Chance.  They headlined the Summer Slaughter fest.  I was originally supposed to see CC back in 2012 during the Summer Slaughter fest, but no one was able to give me a ride.  It was the Irving Plaza in 2012.  They co-headlined with the awful Between the Buried and Me (sorry if you like that band, but they're not impressive to me).  At this show, I lost my glasses in the pit (worse than losing my camera!).  I have decided that... hmmm maybe I'll have to take my chances seeing CC at The Chance.  I hope if they do perform one show in NYC and another show at The Chance when they tour again.  I'll be better off going to the NYC show.
Well there you have it!  My stories about the times I saw CC!  If you wanna know more, feel free to comment and/or send me a PM!